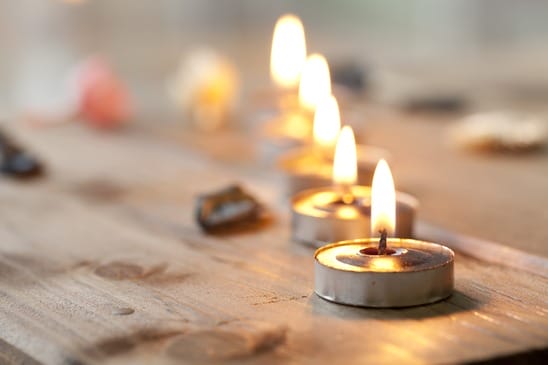 Steamatic's Candle Fire Clean-Up, Safety Tips and Flameless Alternatives
As Canada's leading fire and smoke damage restoration service, Steamatic professionals have become very familiar with the kind of damage that candles can wreak around the home. Though they smell great, create a beautiful ambiance, and are generally just lovely to look at, candles are a common cause of house fires in Canada.
Between 2007 and 2011, Canadian firefighters responded to over 10,000 house fire calls that were started by the flame of a candle. Of these numbers, over a third began in the bedroom, which lowers the residents' chance of survival significantly, while also increasing their likelihood of suffering fire-related injuries. Many people are aware of the dangers of leaving candles unattended, and assume that they are not in danger, but over 10% of house fires caused by candles started after the resident fell asleep.
As well as being a safety threat, candles are also notoriously bad for leaving soot marks on walls, ceiling, bath tubs, and other surfaces in the home.
Read on for some candle soot prevention and clean up tips from our Steamatic fire restoration team:
Always avoid burning candles in drafty rooms. Placing candles near open windows, air ducts, or fans will kick up more soot than candles burning in rooms with stagnant, still air. This is because drafts cause the candle flame to change in size and direction, so that it uses an inconsistent amount of wick's fuel. Extra oil drawn from the wick is expelled as soot into the air, where it cakes onto the walls and other surfaces.
Use candle cappers on jar candles. Jar candles are popular, and recommended due to their wide base, low center of gravity, and low risk of toppling over. Candle cappers are an easy way to regulate the air flow in and out of the jar to reduce sooting.
Buy quality candles. Well-made candles soot less because the wick size, wax type, and candle size are balanced to minimize soot.
To clean soot stains, use the upholstery attachment on your vacuum first. Go over the stains and lift away any residue. Next, mix soap and water, and sponge the cleaning solution over the soot. Make sure it is not sopping wet, or the soot will run down the wall in black watery streaks. Rinse the clean area and dry with a soft cloth. If this does not work, you are dealing with deep-seated soot stains that will require help from our fire damage restoration team. Call 1-888-767-7616 any time for assistance.
Our fire restoration wing would like to present some candle safety tips to try and keep homeowners safe:
House fires are much less likely if you keep the candles upright! Choose wide-based candle holders that are sturdy and less prone to tipping.
Place candle holders only on surfaces that are free of clutter, and unlikely to tip over.
Light candles very carefully. Many candle fumbles occur after a blundered lighting. Keep your hair back and do not allow any loose clothing to stray too near the candle or lighter.
Put your candles out before they burn to their base. Allowing the flame to dip so low in the container or base puts it near the surface level of the table or mantle it is resting on, which can increase the chance of fire catching nearby items.
Never light a candle if anybody in the home uses oxygen.
Choose flashlights and battery-powered lighting in the event of power outages. These are both safer, and longer lasting than candles.
If you or your family members are addicted to candlelight or the smells in the home, then perhaps these flameless candle alternatives would be an acceptable substitution. Try some of the following:
Wickless candles. These look like candles, but do not burn. Instead, a plate warmer melts wax to release a candle scent without any open flame.
Electric candles. These use wax shell and light to create the effect of a burning candle, and the light's heat will spread the smell of the scented wax.
Scented bathroom air fresheners. The heat from your showers will help trigger the smell's spread in your bathroom so that you don't need to light candles any more.
Potpourri. Though unlike a candle in many ways, potpourri will add a different kind of decorative accent while also spreading a pleasant smell. This may be the perfect candle alternative for the decorative type.
Follow these clean up and prevention tips, and consider these flameless alternatives to stay safe with Steamatic! If things go wrong, or your soot clean-up is taking forever, then call 1-888-767-7616 for help!