DIGITAL PARTNERSHIP BETWEEN THE WEATHER NETWORK AND STEAMATIC CANADA
Advertising agreement for display on The Weather Network's digital platforms for four months
Steamatic Canada recently reached a four-month advertising agreement with The Weather Network to promote its services on their digital platforms.
Since the end of January, various Steamatic ads can be found on the home page of The Weather Network's website (www.theweathernetwork.com) as well as on their mobile app. The campaign, which will end in mid-April 2021, will target markets where Steamatic Canada's franchisees are located and will be adapted to the weather conditions of the time in these markets. For example, if there is heavy rain in a market, the background will feature a flooding scene as shown in the image below.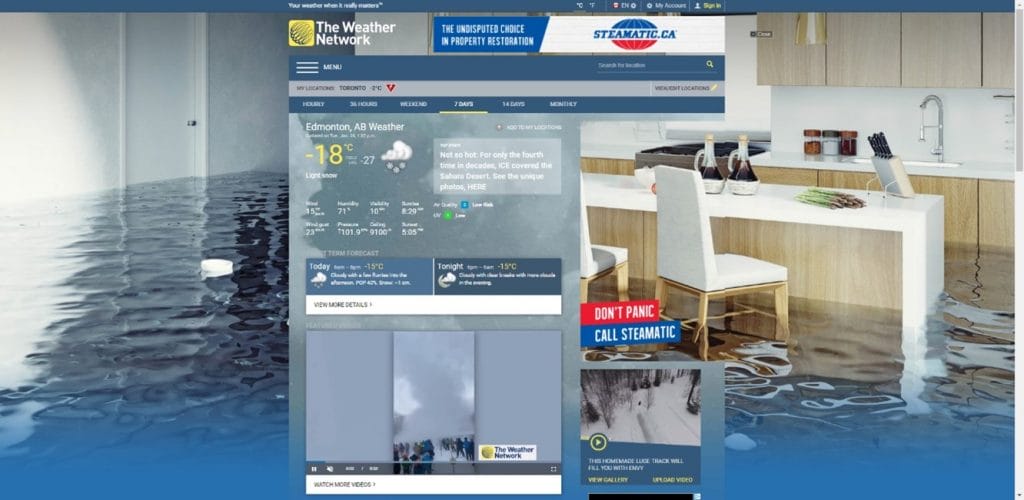 About Steamatic Canada
Steamatic Canada is a franchise network in the disaster restoration industry that has been in operation for over 50 years. We are committed to offer an exceptional, quality service by implementing best practices to not only meet, but to exceed the industry standards, and help to minimize the stressful impact that these situations have on our clients. Our respect, devotion, rigour, team spirit and community involvement values are what makes us the undisputed choice of property restoration. We offer 24/7 full-service restoration from mitigation to rebuild and specialty cleaning.