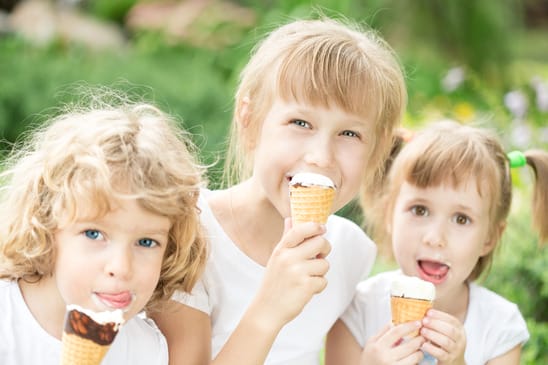 Summer with Steamatic: Removing Summer's Toughest Stains
Summer may be considered one of the general population's favourite times a year, and we know why.
It's a beautiful time to be outside, spend time with family and friends, go on adventures and stay up late.
There are so many yummy things to have in the summer, like ice cream, and so many things to apply to your skin like sunscreen that can stain dark clothes and even your furniture! Summer is beautiful, but any professional mom knows that it comes with hidden stain-gers.
We at Steamatic have compiled a small list of these dangers and how to fight the stains of summer.
Ice Cream
A delicious frozen treat for you and/or your children to enjoy on a hot day, when all the sudden, someone spills. Ice cream trickles from your toddler's face and all over their shirt. No worries, if possible, quickly apply cold water to the area and lightly rub fabric to remove and rinse. If the stain has set soak in an enzyme detergent for thirty minutes and then machine wash.
Sunscreen
Depending on the type of sunscreen you use, it can stain.Sunscreen is an important factor whenever you are out in the sun, so it can be hard to avoid stains. Well, all you have to do is either spot treat with dishwashing liquid, or soak in pretreatment of liquid detergent and launder as usual, just in the hottest water possible.
Ketchup
So you just took a bite of a hot dog at your friend's annual summer barbecue, and suddenly you feel it. The drop on your shirt. Suddenly wearing a white shirt seemed like the worst decision you have ever made. Ketchup is one of those obnoxious, discoloured, tough to remove stains, but don't fret.
For a first line of defense against the ketchup stain, dab with water immediately, or spot treat with detergent. Pretreat the stain as usual or use a spot-stain remover. Think about adding some hydrogen peroxide to the stain to bubble-action it out. Machine wash as usual, and apply bleach if you can.
Blood
You just fell off your bike, or missed the curb on your rollerblades, or watched your kid take a tumble down the slide the wrong way. After assessing the damage everything is fine and your wounds have been cared for, you look down to see a big old red blood stain. Oh no. Don't panic! If the the stain is still wet, you have time to soak the fabric in cold water and rub with a bar of soap. If the stain has dried, use an enzyme detergent and wash as soon as possible. Whether wet or dry, hydrogen peroxide, if applied, will loosen the stain, and dabbing with ammonia can help create a bleaching effect.
No matter the stains, it's a beautiful day. Fear not and follow Steamatic's tips to a stain-free summer.