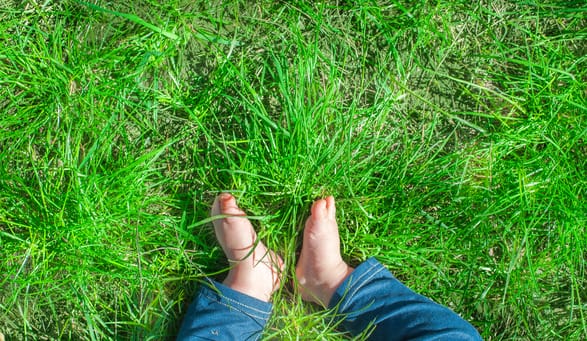 Removing Grass Stains
Ah, summer. The season of fun. We look forward to it all winter and all throughout those cold months we just hope to see one thing: grass.
The beautiful shade of green, soft and squishy. We run on it, roll around on it, take care of it, watch stars on it and so much more. As much as we love these activities, they produce one thing that we always find tough to get rid of. These things are grass stains. They show up ground into your children's brand new jeans, looking daunting and laughing at you as you look for different brushes to scrub it out.
Look no more with our list of tips and tricks to remove pesky grass stains once and for all… or at least until next laundry day.
Ideally, a grass stain should be promptly addressed but no fret if it is left to the next day.There are several types of fabrics which are easier to clean grass stains out of than others, and one most common happens to be one of the most difficult: denim. Denim comes in many colours and bleach usually takes care of stains on white jeans, but what about the other ones? Before you know it your child's brand new blue jeans are covered in green tingy stains.
The first method is mainly for stains that arent one-hundred percent set.
The stain should be pre-treated with a home made solution whether it be water and detergent or white vinegar and water. Next, gently scrub the stain with a brush or rough rag and finish by washing with regular detergent.
Method number two consists or a more aggressive removal and a little more patience.
For this, first pour a solution of rubbing alcohol on the stain and gently work it in to the fabric, using as much as needed to see results. Begin the solution with one part water and one part rubbing alcohol, but if it proves difficult begin using all parts alcohol. Next, apply detergent directly on the stain and soak in a detergent and water solution and finally launder as usual.
From non-denim pants, such as khakis for example, the process is fairly similar except pre-treating with regular detergent and adding more strength to your scrubbing will help to remove the stain better.
Make sure you do not dry clothes until all signs of the grass stain are gone, and remember to avoid using any de-greasers, alkaline, or ammonia based detergents as this can make the stain become set an unable to be removed.
No matter the fabric, a grass stain can be removed with a little work and patience. Try out these tips to stay on top of summer stains!