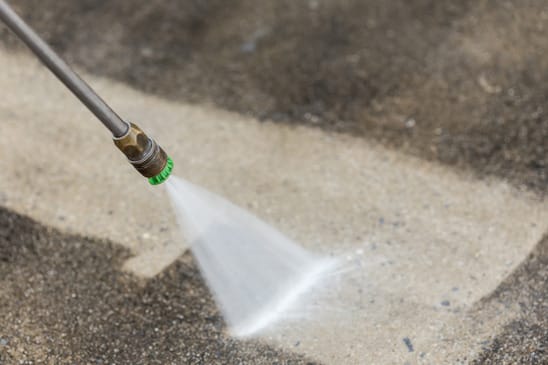 Making a Case for Concrete Cleaning
The implications of perfectly-clean pavement and concrete surfaces are far-reaching. Realty players looking to take advantage of a promising seller's market could invest in a Steamatic clean to boost their closing sale price, or draw in more viewings
What is so important about cleaning your concrete?
We live in a concrete jungle, as they say. The developed world is almost completely encased in concrete. Paved panoramic views and concrete landscapes have become a natural part of our lives to the point where we accept them as a constant. However, most of our associations with these surfaces involved dirty, stained concrete.
Gum and grime-covered walls in the subway, weather-worn pavement, and oil-stained parking lots are usually what comes to mind when we think about concrete surfaces. Dirty concrete seems like standard fair, so why clean it?
Keep your concrete in shape for longer.
Our cleaning process removes harmful contaminants that could erode your concrete over time. Once erosion sets in, the problem will only get worse without treatment, as porous damaged areas leave wide openings for water and other chemicals to rush in.
Protect the environment with Steamatic Pavement and Car Park Cleaning
From an environmental perspective, cleaning your concrete is a hugely important step towards maintaining a healthy planet. Streets, parking lots, and other concrete or paved surfaces are the single largest source of nonpoint source pollution. Consider that street pavement drinks up all manner of harmful chemical spills in an average day. Leaky car engines pass overhead all day long, and people are always discarding beverages or spilling oil in the street. It is thought that urban pavement is one of the largest carriers of metal and hydrocarbon pollution. Pavement is also a significant carrier of nutrient and pesticide run-off from landscapes and atmospheric sources. To make matters worse, pavement and concrete surfaces are usually exposed to considerable levels of urban watershed, since they are rarely protected from rainfall. This means that any pollutants being held by the porous concrete are being washed into more vulnerable areas like wells, water mains, ponds, and rivers.
Steamatic's concrete and pavement cleaning service can safely remove all pollutants, while also taking care of ugly stains. Most companies' concrete cleaning service starts and ends with sweeping and mechanical broom treatments, but Steamatic goes the extra mile. We use some of the best green-cleaning technology available. Our concrete and pavement cleaning process will bring out industrial-strength pressure washers and dry-ice blasting equipment to rid your parking lot or outdoor surfaces of any pollution in a safe and environmentally-sensitive style. These techniques mostly use various forms of water as their cleaning solution, with an eco-friendly emulsifying agent incorporated as needed.
Boost your curb appeal and make a stunning first impression with Steamatic.
Beyond doing your duty to the environment, investing in a Steamatic concrete or pavement cleaning can benefit your home or business by creating a stunning first impression. When somebody arrives at your home or business for the first time, their eyes will automatically seek out your driveway or parking lot. This cannot be avoided – people need to park, after all. It is up to you to decide how this unavoidable first-look will affect your guest's perception of your home or business. Somebody who pulls into a cracked lot strewn with broken glass and sticky oil spills with have a very different experience than the person who pulls into a bright and immaculate parking garage. People understand that the parking lot is very low on the totem pole when it comes to ranking cleaning priorities, but this only makes it that much more impressive when your guests arrive to perfectly-clean concrete and pavement.
The implications of perfectly-clean pavement and concrete surfaces are far-reaching. Realty players looking to take advantage of a promising seller's market could invest in a Steamatic clean to boost their closing sale price, or draw in more viewings. Home owners looking to host the perfect dinner party may need to give their patio or walkways a make-over to get the desired results. Draw more walk-in business to your with a more appealing store-front. The possibilities are endless.
Steamatic concrete and pavement cleaning services are available 24/7 to handle any emergency and accommodate even the most chaotic of schedules. We offer a diverse range of restoration and clean-up services, and can have your concrete and pavement looking like new in a single day. We have been helping home and business owners make the best first impression possible for over 40 years now.
If you would like to learn more about how Steamatic's concrete and pavement cleaning process can benefit your home or business, then call us today at 1-888-767-7616, or visit Steamatic.ca!