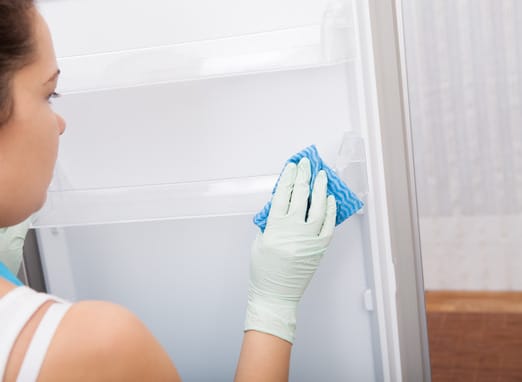 Cleaning Your Kitchen Appliances
Items can become buried in a full fridge. This is also where spills and sticky messes tend to occur. Vinegar and water are your best friend when it comes to cleaning the fridge.
Empty out all of the items from your fridge so you can clean it from top to bottom at once. Mix three parts warm water and one part vinegar in a spray bottle and spray onto a wash cloth.
Clean all of the shelves and drawers in your fridge. You may need to use a little extra elbow grease to get rid of those annoying sticky messes. If you have a very stubborn spill, spray the vinegar and water mix directly on it and allow it to sit for a few minutes before wiping it off. Go through your food before you place it back in the fridge. Get rid of any empty salad dressing bottles, expired foods, and forgotten left overs!
Next is the microwave, where things tend to get overheated and cause a problem. To clean your microwave you will need vinegar and water, which you should already have out from cleaning the fridge.
Here's the easy way to get the inside of your microwave sparkling clean again. Microwave 1 cup of water and 1 cup of vinegar in a microwave safe container for 10 minutes. This forms a steam and you can easily wipe away the dirt and grime upon completion.
The stove is the last appliance you'll need to tackle. Remove the racks from inside the oven so you have an uncluttered space to clean.
To clean your stove you will need four drops of dawn dish soap, four teaspoons of baking soda, five teaspoons of vinegar, and lemon juice (whole lemon). Mix these ingredients together and spread the paste all over the oven, including the window. Let it sit for a few hours. Use a sponge to scrub off the stubborn messes and use a washcloth to wipe the paste off of your oven.
These easy practices will leave your appliances sparkling clean using ingredients you probably have in the house!