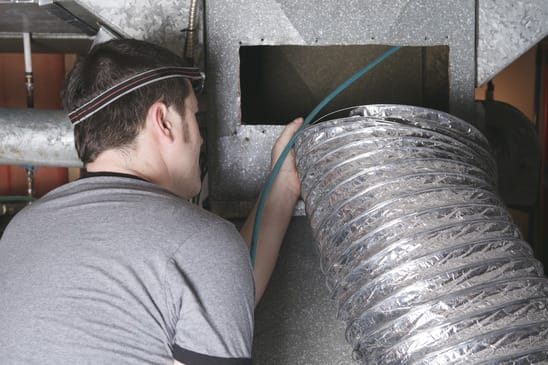 Air Duct Cleaning Tips
Duct cleaning is the cleaning of various heating and cooling system components of forced air systems. If the ducts are not properly installed, maintained, and operated, these components may become contaminated with particles of dust, pollen, or other debris causing severe health hazards to those inside the space with un-clean ducts.
Improving air quality
No matter what the condition of the ducts, having a crew of guys lugging around hoses and pumping air throughout the building and mechanical system will affect air quality.
Benefits of air duct cleaning:
Better air quality in your home
Your furnace doesn't have to work so hard to push air through your HVAC system
Odors can be eliminated
Clears potentially harmful bacteria
Provides cleaner, healthier environment for your family
Pollution is hazardous for your heart and can cause health issues such as asthma, and other diseases. Without routine duct cleaning you could start smelling ironic smells that are signs of contamination in your home.
Air Duct Quality Tips:
Avoid using pesticides in and around your home
Be aware of the presence of lead paint on the wall (older homes)
Keep HVAC system clean and maintained
Make sure your home is well ventilated
Install tile or hardwood in your home as opposed to carpet
Check for leaks in your home and more!
Most of our time is spent indoors, but there are so many ways you can improve the air quality of your home ensuring comfort for your family and yourself each and everyday. Remember you can: reduce humidity, clean regularly, ban smoking in your home, check and replace filters and more!
Steamatic will provide you with customized cleaning services that are uniquely adapted to the state of your particular air ducts. Call us today at 1 888 767 7616 or visit us online to book an appointment today!